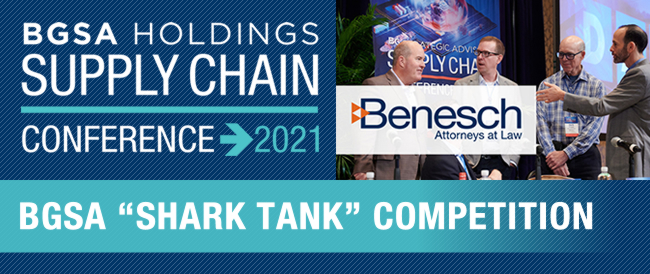 BGSA Announces 2021 Supply Chain 'Shark Tank' Competition Winner
Award recognizes Venti Technologies for its disruptive autonomous vehicle technology and high growth positioning within the rapidly growing logistics field
West Palm Beach, Florida — BG Strategic Advisors, a leading advisor to the supply chain and technology sector, is pleased to announce and congratulate Venti Technologies CEO Heidi R. Wyle, Ph.D.  as the winner of the Benesch sponsored BGSA 2021 Supply Chain "Shark Tank" competition.  The competition, held during the BG Strategic Advisors Virtual Supply Chain Conference January 20-21, 2021, featured presentations from high-growth, technology-enabled supply chain companies poised for transformative growth.
"I am thrilled at this recognition of Venti and our autonomy technology by an in-the-know panel of logistics professionals," said Heidi Wyle. "Venti's market leadership in Safe Speed autonomy is transforming logistics operations for large customers not only by offering cost efficiencies and greater vehicle utilization, but also by providing proprietary logistics autonomy functions such as mutli-vehicle independent control and steering, automated tools for map-changes and the ability to operate in complex and tight spaces.   We are seeing great success with deployments of our tug-trailers for customers in the $175 billion logistics hubs marketplace, and building a strong pipeline. We anticipate continued growth in industrial businesses and transportation hubs in the U.S. and worldwide."
The Supply Chain "Shark Tank" finalists were judged by "Sharks" Herb Shear (former CEO, GENCO), Rob Howard (former CEO, Grand Junction, now a division of Target), and Jack Holmes (former President, UPS Freight).
In addition to winning the Shark Tank, for which the prize was $10,000 of legal services from AmLaw200 firm Benesch, Venti Technologies was also voted best company by the conference attendees.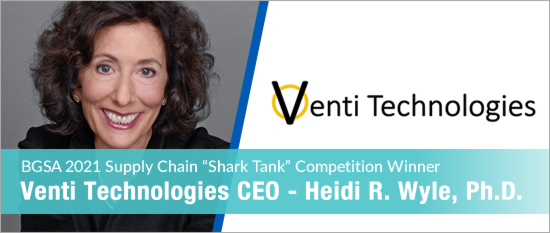 BG Strategic Advisors would also like to thank the other Supply Chain "Shark Tank" participants for outstanding presentations and for helping to make the event a great success, including:
About Venti Technologies
Based in the U.S. and Asia, Venti Technologies is a safe-speed autonomous mobility company targeting the $175 billion Logistics Hubs Marketplace in factories, warehouses, airports and ports.  Using rigorous mathematical modeling, deep learning, and theoretically-grounded algorithms, Venti has developed a proprietary suite of logistics autonomy technologies. The company's clear value proposition of saving costs, increasing vehicle utilization, improving safety and providing COVID-friendly logistics is recognized by customers and driving growth, with multiple deployments in operation as well as a growing pipeline.  Launched in 2018, Venti brings together an unsurpassed team internationally. For more information please visit www.ventitechnologies.com.
About Benesch
Benesch's Transportation & Logistics Practice Group guides clients in every facet of the supply chain to maximize growth, enhance profitability, ensure customer satisfaction, and minimize risk. Carriers of all modes of transportation (motor carrier, rail, air, and maritime), third-party intermediaries (transportation brokers, air and ocean freight forwarders, intermodal marketing companies, etc.), warehouse operators, technology providers, and commercial shippers (manufacturers, distributors, and retailers) rely upon Benesch's leadership and experience from global origin to destination, and every turn in between. www.beneschlaw.com
About BG Strategic Advisors Supply Chain Conference
The BGSA Supply Chain conference is a one-of-a-kind, invitation-only event designed to bring together top industry leaders from all segments of the supply chain and provides an intimate and candid setting where CEOs and leaders can privately network and explore ideas and opportunities with their peers. www.bgsaconference.com
About BGSA Holdings
BGSA Holdings ("BGSA") is the leading investment banking practice serving businesses in the supply chain sector. We are a trusted partner for sell-side engagements, buy-side acquisition advisory, strategic advice, and a variety of other investment banking services. www.BGSA.com
For more information, visit www.BGSA.com or call Jennifer at (561) 932-1607.