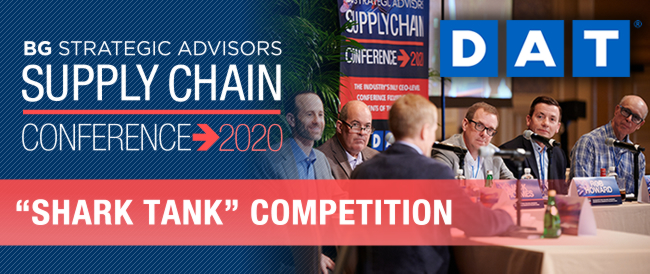 West Palm Beach, Florida — BG Strategic Advisors is pleased to announce and congratulate SecūrSpace CEO Lance Theobald as the winner of the DAT sponsored BGSA 2020 Supply Chain "Shark Tank" competition featured at the BG Strategic Advisors Supply Chain Conference 2020 held at The Breakers in Palm Beach, January 23-25, 2020.
"The BGSA conference was a fantastic opportunity to showcase what my team and I have been building at SecūrSpace," said Lance Theobald, CEO of SecūrSpace. "The opportunity to present to so many transportation and supply chain leaders at once would be nearly impossible to replicate. I'd encourage any startup tackling big problems in logistics and supply chain to apply in 2021!"
The Supply Chain "Shark Tank" finalists were judged by "Sharks" Claude Pumilia (CEO, DAT Solutions LLC), Herb Shear (former CEO, GENCO), Rob Howard (former CEO, Grand Junction, now a division of Target), and Jack Holmes (former President, UPS Freight).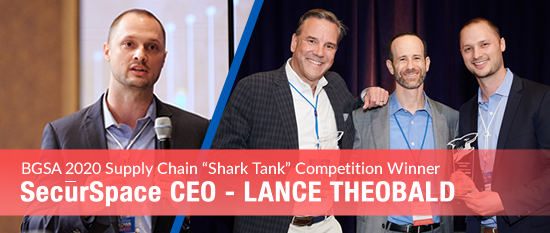 The winner received a total of $5,000 in prizes provided by sponsor DAT and $10,000 in legal services from AmLaw200 law firm Benesch.
BG Strategic Advisors would also like to thank the other Supply Chain "Shark Tank" participants for outstanding presentations and for helping to make the event a great success, including:
• Sanjay Chopra – Co-Founder & CEO, Cognistx
• Aaron Frank – Co-Founder & CEO, Deliver-EZ
• Martin Lew – Founder & CEO, Commtrex
• Kyle Marks – CEO, Retire-IT
• Seth Patin – Founder & CEO, LogistiVIEW
About SecūrSpace
SecūrSpace is a B2B marketplace and enterprise software provider enabling on demand access to industrial real estate across the US. We work with a diverse network of Partners to help expose and monetize their underutilized real estate assets. Our aim is to solve the chronic truck parking and transportation equipment storage problems plaguing cities and highways across the country. www.Secur.Space
About DAT Solutions
DAT operates the largest freight marketplace in North America, bringing together the largest network of transportation brokers, carriers, and shippers. News organizations and industry analysts rely on DAT for market trends and data insights derived from 183 million freight matches per year and a database of $68 billion in annual market transactions. As the industry standard for rate pricing, DAT's freight rate database also provides the settlement prices against which trucking freight futures contracts are traded. Founded in 1978, DAT Solutions LLC is a wholly owned subsidiary of Roper Technologies (NYSE:ROP), a diversified technology company and constituent of the S&P 500, Fortune 1000, and Russell 1000 indices. www.DAT.com
About Benesch
Benesch's Transportation & Logistics Practice Group guides clients in every facet of the supply chain to maximize growth, enhance profitability, ensure customer satisfaction, and minimize risk. Carriers of all modes of transportation (motor carrier, rail, air, and maritime), third-party intermediaries (transportation brokers, air and ocean freight forwarders, intermodal marketing companies, etc.), warehouse operators, technology providers, and commercial shippers (manufacturers, distributors, and retailers) rely upon Benesch's leadership and experience from global origin to destination, and every turn in between. www.beneschlaw.com
About BG Strategic Advisors Supply Chain Conference
The BGSA Supply Chain conference is a one-of-a-kind, invitation-only event designed to bring together top industry leaders from all segments of the supply chain and provides an intimate and candid setting where CEOs and leaders can privately network and explore ideas and opportunities with their peers. www.bgsaconference.com
About BGSA Holdings
BGSA Holdings ("BGSA") is the leading investment banking practice serving businesses in the supply chain sector. We are a trusted partner for sell-side engagements, buy-side acquisition advisory, strategic advice, and a variety of other investment banking services. www.BGSA.com
For more information, visit www.BGSA.com or call Jennifer at (561) 932-1607.
https://bgstrategicadvisors.com/wp-content/uploads/2019/12/bgsasupplychain2020.png
309
495
admin
https://bgstrategicadvisors.com/wp-content/uploads/2019/12/BGSA-Holdings-340-300x138.png
admin
2020-01-31 21:33:28
2020-02-04 00:17:20
BG Strategic Advisors Announces the BGSA 2020 Supply Chain "Shark Tank" Competition Winner