Award recognizes Nereus as Judge's Choice and Navix.io as People's Choice Winners
West Palm Beach, Florida — BG Strategic Advisors, a leading advisor to the supply chain and technology sector, is pleased to announce that this year, for the first time ever, the BGSA Supply Chain "Shark Tank" had two winners. We want to congratulate Navix.io Co-Founder and CCO, Eric Krueger as the People's Choice winner of the Book Your Cargo-sponsored BGSA 2023 Supply Chain "Shark Tank" competition  and Ian Zaretzky, CEO of Nereus Supply Chain Technologies as the Judge's Choice winner. The contest, held during the BG Strategic Advisors Supply Chain Conference January 18-20, 2023, featured presentations from high-growth, technology-enabled supply chain companies poised for transformative growth.
"When we heard we were selected as a finalist for the Shark Tank competition, we were understandably thrilled. Our fellow finalists gave excellent pitches, so to be selected as the People's Choice winner was an incredible honor for us," said Eric Krueger, Co-Founder of Navix. "Our team has worked so hard to build a platform to solve a long-standing need in the industry; it's a good feeling to be recognized by our peers."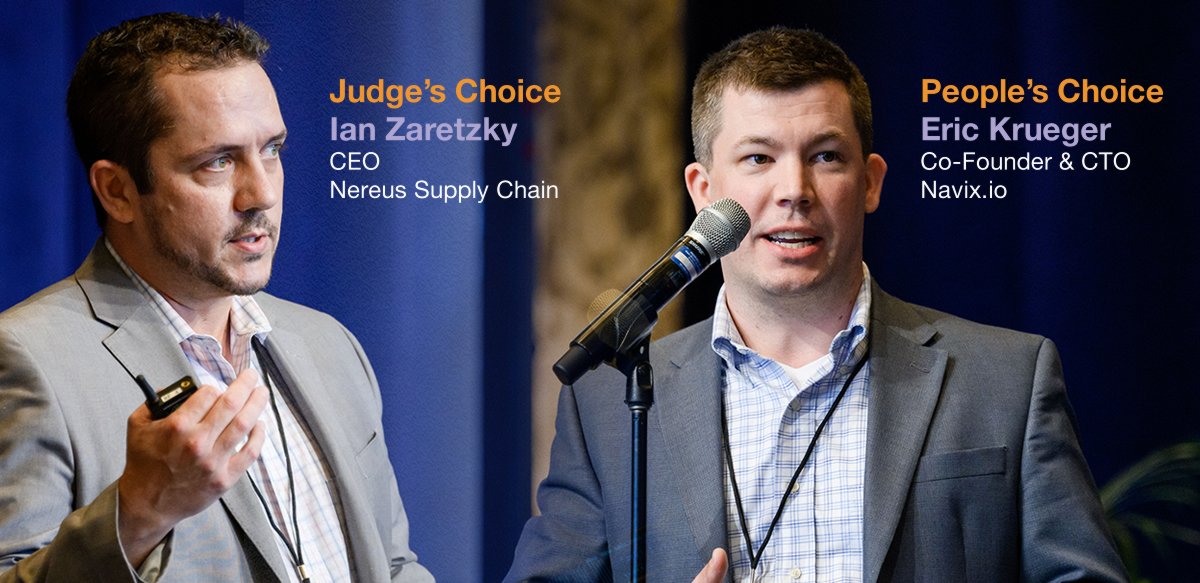 "I was incredibly honored to be selected as a finalist at one of the most important conferences of the year. Our team took home the Judge's Choice award of the BGSA Supply Chain Conference "Shark Tank" competition, which is an incredible honor and validates what we are doing," said founder and CEO Ian Zaretzky. "Our Containers-as-a-Service platform Nereus.io came out on top against some amazing technology and tough competition – what an amazing experience."
"It was a great pleasure for Book Your Cargo to sponsor the "Shark Tank" competition, a truly unique opportunity within our industry to connect with some of the brightest entrepreneurs as they showcased their innovative startups in front of the industry's most respected, influential, and sharpest minds. We would like to thank and congratulate BGSA, judges, winners, and finalists on an excellent event and job well done!" said Book Your Cargo CEO, Nimesh Modi. "We look forward to following these innovators on their journey to transform the supply chain industry as we see it. At Book Your Cargo, innovation remains the core of our mission to revolutionize and prioritize the container drayage sector, thus to be the diamond sponsor at the BGSA conference was an honor."
The BGSA Supply Chain "Shark Tank" finalists were judged by "Sharks" Ed Ryan, CEO, The Descartes Systems Inc., Jack Holmes, Executive Chairman, Emerge (former President of UPS Freight) and Herb Shear, Chairman, Shear Family Office (Founder and former CEO of GENCO).
The winners each received $5,000 of legal services from AmLaw200 firm Benesch.
BG Strategic Advisors would also like to thank the other Supply Chain "Shark Tank" participants for outstanding presentations and for helping to make the event a great success, including:
Camilo Garcia – CEO, CubiQ
Eric Rodriguez – CEO, Vendorflow
Mike Malakhov – Founder & CEO, Carpool Logistics
Phillip Akhzar – Founder & CEO, Arka
About Nereus.io
Nereus.io is a container asset management solution that is servicing Shipper Owned Container (SOC) demand. Nereus.io connects Freight Forwarders, Beneficial Cargo Owners and Shippers with container capacity that they can own and control, minimizing detention, demurrage and other hidden costs. The Nereus.io platform was designed for container asset management to include; procurement, logistics, tracking the assets, and liquidation, offering the management of the entire life cycle and needs for container shipping and global trade. For more information, visit nereus.io.
About Navix
Navix is a modern Software-as-a-Service platform streamlining document retrieval and freight auditing service. Navix enables 3PLs and brokers to automate their processes at scale, increasing their cash conversion cycle and revealing better insights into their freight spend and discrepancies. Navix creates greater profitability through its highly configurable automation triggers, API-first approach for seamless integrations, AI/ML-driven insights, and white-glove auditing services. For more information, visit navix.io.
About Book Your Cargo
Book Your Cargo (BYC) is a dedicated trucking partner for your container drayage operations across the US and Canada, delivering a tailor-made container drayage solution with its nationwide vendor network and proprietary state-of-the-art Transportation Management System. BYC's cloud-based Digital Drayage Platform optimizes the drayage process with instant rate quotes, operational optimization, service integration, order visibility, and real-time milestone updates transmitted through API/EDI integrations eliminating the fragmentation experienced for years within the industry. The company's team of drayage experts offers white-glove service to some of the top fortune 500 companies & other OTIs, touting a less than 1% track record of service failures. For more information, visit bookyourcargo.com.
About BG Strategic Advisors Supply Chain Conference
The BGSA Supply Chain conference is a one-of-a-kind, invitation-only event designed to bring together top industry leaders from all segments of the supply chain and provides an intimate and candid setting where CEOs and leaders can privately network and explore ideas and opportunities with their peers. For more information, visit bgsaconference.com.
About BGSA Holdings
BGSA Holdings ("BGSA") is the leading investment banking practice serving businesses in the supply chain sector. We are a trusted partner for sell-side engagements, buy-side acquisition advisory, strategic advice, and a variety of other investment banking services. For more information, visit BGSA.com or call Jennifer at (561) 932-1607.
https://bgstrategicadvisors.com/wp-content/uploads/2023/02/SC2023_shark-winners-news.png
309
495
admin
https://bgstrategicadvisors.com/wp-content/uploads/2019/12/BGSA-Holdings-340-300x138.png
admin
2023-02-03 05:33:17
2023-02-03 15:38:08
BGSA Announces 2023 Supply Chain 'Shark Tank' Competition Winners